Bespoke Application Programming
We can supply custom built software to improve your website or process text, images or video files offline. Our previous work includes...
PHP/Javascript applications

Javascript applications

TigerLightbox – a jquery plugin for enlarging clicked images, used on this site's portfolio page and client WordPress image galleries.

Adobe Director applications

Excel-waiter, a data-mining tool for transferring webpage tables into Excel
PT-thumbnailer, a tool for batch resizing images, originally developed for our own use in making websites.
PT-VidWidget, a tool for sorting through large numbers of video clips, with the ability to make groups, sequence groups, sequence clips within groups, set in/out points and delete unwanted footage.
PT-MovieTimer, a tool to show the total duration of a folder of Quicktime movie clips in minutes:seconds, also showing individual clip times.
PT-MarkerWidget, a tool for making chapter marker lists for import into DVD Studio Pro, where they allow the skip forward and backward buttons on a DVD remote to function correctly.
We program in PHP and javascript for web applications, and create stand-alone desktop applications using Adobe Director for offline use. Web applications work with many different operating systems, while Adobe Director is restricted to the Mac (OS 9 and OS X) and Windows (XP and later) platforms.
One of the simplest web applications is a content management system for website text, allowing the site owner to modify it using a password-protected web form. If you have a brochure website you need to upgrade, contact us now for a quotation.
Screenshots
PT-VidWidget:
PT-MarkerWidget: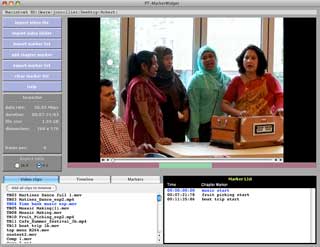 Job Type
Price
Basic web scripting, e.g. text-only CMS
from £200
WordPress plug-in authoring
from £200
Other web scripting
from £400
Desktop application programming

Single platform only
Mac & Windows


from £250
from £500
Prices quoted here do not include travel costs for client meetings.